Job Placement
Job Placement assistance is offered to graduates who show true dedication and potential in the mobile electronic industry. Students will learn how to search for jobs in the industry, how to contact companies that are hiring, how to build a professional resume, proper job interviewing skills, and the follow up that is required after the interview. Students will work closely with the job placement coordinator to find the job that is more appropriate for their skill level.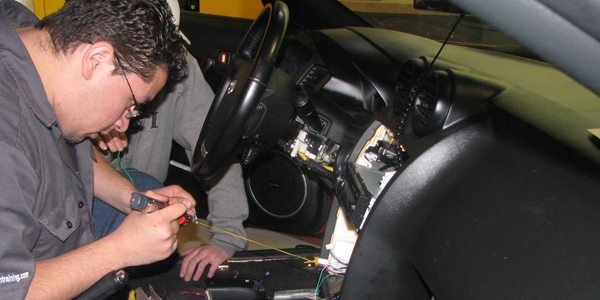 Career Services
Mobile Technical Training offers students the opportunity to pursue a career in the exciting fields of Mobile Electronics installation, Custom Fabrication, and Automotive Upholstery. Obtaining the proper training will provide future installers with the knowledge to tackle most of any jobs that come their way.
At Mobile Technical Training, we assist our graduates  in finding employment opportunities. From resume and interviewing workshops, searching for jobs or internship opportunities, to extensive follow up after the interviewing process, we ensure every qualified graduate makes the most of their technical training. So if you plan to pursue a career in the exciting fields of mobile electronics, fabrication, or upholstery, MT2 will help you along the way. Our job placement coordinator will work with you side by side to help find the right opportunity.
What type of job opportunities exist for Mobile Technical Training graduates?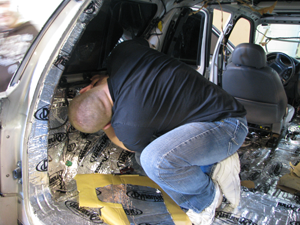 Nowadays, an installer must be knowledgeable in vehicle circuitry and diagnosis as well as extensive custom fabrication. With these skills, installers can go on to have very rewarding careers. They will be able to work on any vehicle regardless of make and model and challenge their creativity by developing unique custom fabrication projects.
Here are some examples of different job opportunities available to graduates of Mobile Tech Training:
Dealership Aftermarket Installations: Experienced graduates can go on to work for direct automotive dealerships installing video, audio, navigation, Bluetooth accessories, side steps, bumper guards, wind deflectors and more. For example, past graduates have gone on to work for Ford, Honda, and other Dealerships.
Fleet Jobs – Commercial: Graduates can work installing GPS location devices, lighting bars, backup sensors, rearview cameras, strobe lights for commercial companies such as bus lines, police vehicles, ambulances, and other commercial transportation companies. For example, past graduates have gone on to work for companies such as Hertz, Avis Rent a Car, Telargo, Local Airports, and NJ Transit among some.
Big Box Retailers: Graduates can gain valuable experience by working at companies such as Best Buy, 6th Ave Electronics, PC Richards, and Pep Boys. Job opportunities exist in the installation bay and in the sales division of these companies. For graduates who lack experience, these would be the ideal places to start and eventually expand their careers.
Privately Owned Mobile Electronic Shops: Graduates can go on to work as an installer and custom fabricator for a local business. They will be exposed to the real life setting of a custom shop. Positions may be available in the installation bay, sales, and even management department. The experience and additional knowledge that is gained at the shops will help graduates run their own business someday.
Marine Industry: Graduates can go on to install 12 volt electronics such as sound systems, mobile video, and lighting equipment. They can also utilize their upholstery skills. For example, past graduates with experience have gone on to work doing upholstery for private boats and even yachts.
Aviation Industry: Graduates can go on to install 12 volt electronics such as mobile video equipment and utilize their upholstery skills. For example, past graduates have gone on to work for companies recovering helicopter seats.
Motorcycle Industry: Graduates can go on to install 12 volt electronics such as HID's, LED's, tracking systems, recovering motorcycle seats and even fiber glassing side panels.
Self Employment: This is perhaps the most rewarding job opportunity that our graduates have encountered. Those graduates with the proper experience and business sense have opened their own Mobile Electronic Installation & Fabrication businesses. Others have chosen to keep this career as a second income and only work on weekends performing different installation and fabrication services.
Mobile Technical Training holds a graduation rate of 90% and job placement rate of 85%. At the time of reporting (2014): in a group of 25 students, 22 have been able to find employment within 90 days of their graduation date. These rates have been audited by a 3rd party and verified. As per the school's accreditor's reporting standards, the job placement rates excludes graduates in the following classification: Active military, service deployment, a health conditions that prevents employment, incarceration, international students who have returned to their country of origin, or death. This rate includes graduates employed in positions that were obtained before, while in school, or after completion of their program of study where the primary job duties after graduation align with their education and training.
Feel free to call us at 201-329-9000 and ask any questions you may have about job placement and career opportunities.