Why should you take this course?
This course will prepare you to become a professional automotive upholsterer and redesign the interior of any vehicle. You will learn a trade that will not only allow you to work on cars, but also on boats, planes, helicopters, and residential upholstery. If you are a hands on learner, you will greatly benefit from 90% hands on training. If you have been working in the automotive industry and wish to expand your skills, this would be the right course for you.
A professional installer who knows how to properly design the interior of a vehicle will be considered more marketable in today's competitive industry. You will not depend on pre-fabricated pieces that may limit your creativity. By learning how to design and properly complete the interior of a vehicle, you will be considered a true custom fabricator.
Curriculum Topics Include:
Work with different materials and fabrics
Make your own patterns
Learn about different materials and tools used in the upholstery field
Custom Design the Interior of a vehicle
The layout, fabrication, and installation of seat upholstery, door panels, headliners, steering wheels, visors, and carpeting
Different types of stitching and piping
Choosing fabrics and colors
Business Aspects of Auto Upholstery
Sales Tips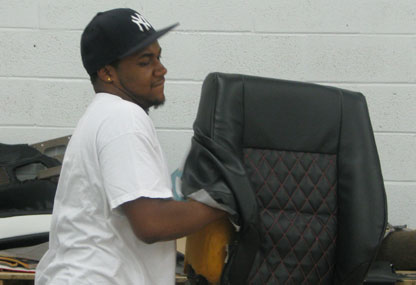 Courses Offered
This course will prepare students to become professional automotive upholsterers and automotive interior designers. Students will learn how a shop is managed and organized. They will learn how to sew, troubleshoot the sewing machine, design and make custom seats, door panels, and so much more as well as keep all projects that are made in class. They will also be exposed to marine, aviation, and residential upholstery. Students can build a portfolio and prepare a resume to go on job interviews.
Classes Start Soon
DAY CLASS: February 23, 2015, March 30, 2015, May 18, 2015, or June 22, 2015
SATURDAY CLASS: July 11, 2015